Melanin Origins Black History Curriculum: Six Week Supplement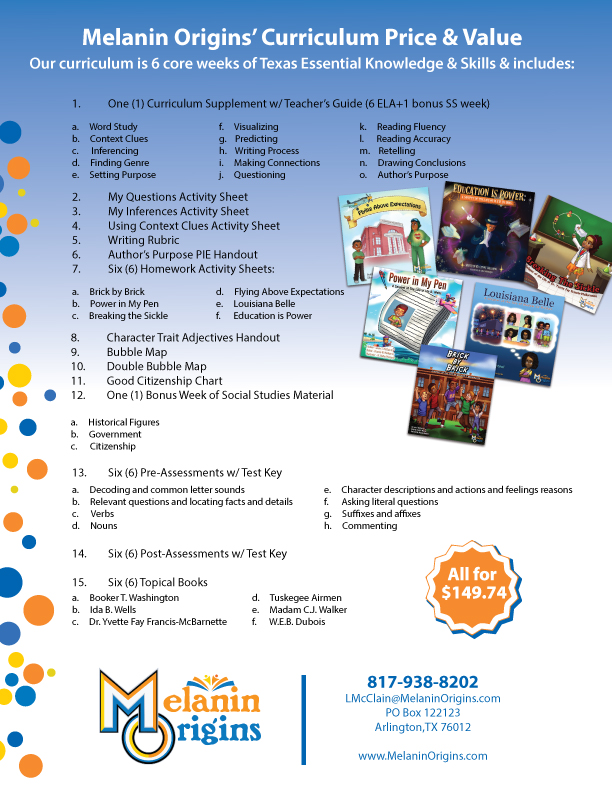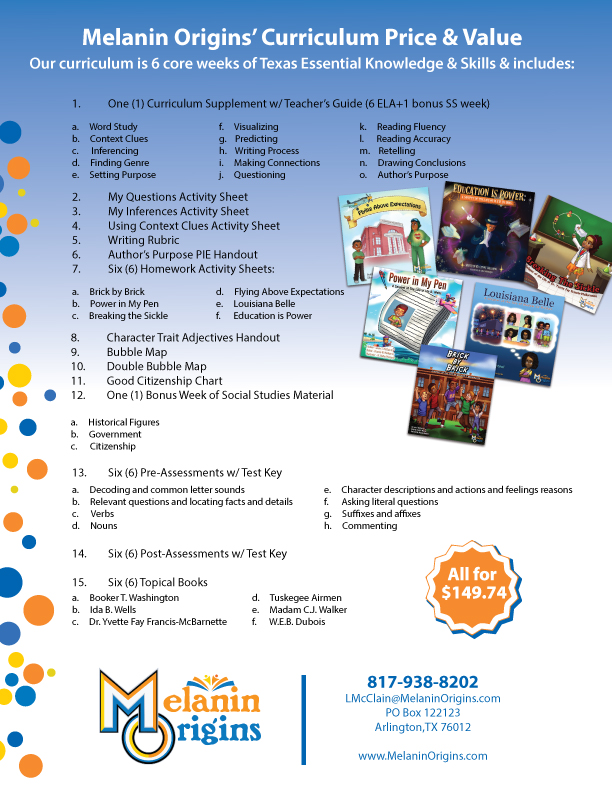 Melanin Origins Black History Curriculum: Six Week Supplement
Melanin Origins LLC is committed to literacy and empowerment through powerful images and stories representative of diverse backgrounds and cultural pride. Our books are the perfect addition to any primary classroom for the benefit of all students.
This curriculum packet is a TEKS / Common Core focused curriculum guide which allows for seamless inclusion of Melanin Origins LLC learning materials with Grade One readers. This guide includes TEKS/STAAR based lesson plans that cover reading, writing, word study, and social studies TEKS for Grade One. These lessons cover the cognitive strategies spectrum for comprehension.
These materials are perfect for use any time of year as they focus on topics relevant to all students at all times, and the added benefit is that these materials provide diverse and culturally responsive images and topics for students. Hearing these stories and studying these historical figures will provide students the opportunity to see possibility in all people especially themselves while also helping them understand the basics of literacy and social studies.
Additionally, this curriculum is designed to be used in part or in full based on the demands/needs of each individual classroom. There are daily lesson plans for each of the six books that can be used interchangeably.
This package includes one (1) hardcover set of the black history books covered in our first series: 1) Brick by Brick: a Snippet of The Life of Booker T. Washington, 2) Power in My Pen: a Snippet of The Life of Ida B. Wells, 3) Breaking The Sickle: a Snippet of The Life of Dr. Yvette Fay Francis-McBarnette, 4) Louisiana Belle: a Snippet of The Life of Madam C.J. Walker, 5) Flying Above Expectations: Tuskegee Airmen, & 6) Education is Power: a Snippet of The Life of W.E.B. Du Bois. Pre & Post test assessments are included as well.
Our curriculum is 6 core weeks of Texas Essential Knowledge & Skills & includes:
1. One (1) Curriculum Supplement w/ Teacher's Guide (6 ELA+1 bonus SS week)
a. Word Study
b. Context Clues
c. Inferencing
d. Finding Genre
e. Setting Purpose
f. Visualizing
g. Predicting
h. Writing Process
i. Making Connections
j. Questioning
k. Reading Fluency
l. Reading Accuracy
m. Retelling
n. Drawing Conclusions
o. Author's Purpose
2. My Questions Activity Sheet
3. My Inferences Activity Sheet
4. Using Context Clues Activity Sheet
5. Writing Rubric
6. Author's Purpose PIE Handout
7. Six (6) Homework Activity Sheets:
a. Brick by Brick
b. Power in My Pen
c. Breaking the Sickle
d. Flying Above Expectations
e. Louisiana Belle
f. Education is Power
8. Character Trait Adjectives Handout
9. Bubble Map
10. Double Bubble Map
11. Good Citizenship Chart
12. One (1) Bonus Week of Social Studies Material
a. Historical Figures
b. Government
c. Citizenship
13. Six (6) Pre-Assessments w/ Test Key
a. Decoding and common letter sounds
b. Relevant questions and locating facts and details
c. Verbs
d. Nouns
e. Character descriptions and actions and feelings reasons
f. Asking literal questions
g. Suffixes and affixes
h. Commenting
14. Six (6) Post-Assessments w/ Test Key
15. Six (6) Topical Books
a. Booker T. Washington
b. Ida B. Wells
c. Dr. Yvette Fay Francis-McBarnette
d. Tuskegee Airmen
e. Madam C.J. Walker
f. W.E.B. Dubois